Public Discussion Series
Aceh Carong dan Pendidikan
Bermuatan Lokal
Miswar Fuady
Direktur Prakarsa Cendekia
| Jum'at, 22 September 2017 | 16.30 - 18.00 WIB |
| Ruang Prof. Anthony Reid, ICAIOS |
About Speaker:
MISWAR FUADY, Lahir 15 Agustus 1973 memiliki motto kerja "Hanya mereka yang berbuat lebih, yang pantas menerima lebih" menamatkan pendidikan pada Jurusan Ilmu Hukum di Universitas Syiah Kuala. Alumni SMA Negeri 1 Meulaboh ini aktif sebagai konsultan, fasilitator, dan narasumber sejak tahun 2001, khususnya menyangkut Budget Analisis and Monitoring, Advocacy, Basic Organizational Management, Leadership, Strategic Planning and Organizational Development for NGO, Community Organizing, Legal Drafting, Social and Politic Education Analisis for Society, dan Facilitator Skill.
Read more: PDS #55 : Aceh Carong dan Pendidikan Bermuatan Lokal


Piasan
Gampong Pande
Sabtu & Minggu|30 Sept - 01 Oct 2017| Gampong Pande Banda Aceh

Events:
|Pameran Urbanisme Warga di gampong Pande|
|Berbagai tur menyusuri gampong Pande|
|Bazaar kuliner gampong Pande|
|Workshop | Instalasi Seni | Pertunjukan budaya|

Save The Date!!


Jakarta - Akhir pekan di Banda Aceh bisa dihabiskan dengan melakukan banyak hal. Salah satunya adalah berwisata ke kawasan kota tua Banda Aceh.
Menikmati akhir pekan, puluhan mahasiswa dari berbagai kampus dan anggota komunikasi mengunjungi kota tua Banda Aceh. Mereka berjalan kaki untuk melongok situs-situs sejarah peninggalan masa kerajaan, masa Belanda hingga sekarang ini.
Kegiatan Wet-wet Koetaraja yang dikemas dengan tema "menelisik kisah kota tua Banda Aceh" dimulai dari Taman Sari, Kota Banda Aceh, Sabtu (9/9/2017).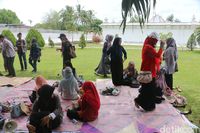 Para mahasiswa yang asyik jalan-jalan dan piknik (Agus/detikTravel)
PELATIHAN E-JOURNAL DAN PUBLIKASI ILMIAH KERJASAMA ICAIOS-JURNAL ISLAM FUTURA PASCASARJANA UIN AR-RANIRY TAHUN 2017

Untuk Pendaftaran dan Biaya Pendaftaran, silahkan isi formulir pendaftaran disini : https://goo.gl/iSbhj5

Dalam pelatihan ini peserta akan dibekali materi penerbitan, pengelolaan jurnal ilmiah versi elektronik serta teknik menyeleksi dan mempublikasikan artikel yang berkualitas untuk jurnal terakreditasi dan bereputasi nasional maupun internasional. Sistem pelatihan mengkombinasikan teori dan praktek. Pemateri pelatihan adalah kalangan profesional pada bidangnya antara lain: Prof. Eka Srimulyani, MA, Ph.D, T. Zulfikar, M.Ed, Ph.D, Syaifullah Muhammad, M.Eng, Ph.D, Saiful Mahdi, M.Sc, Ph.D, Dr. Anton Widyanto, M.Ag, Ed.S, Dr. phil. Saiful Akmal, MA, Ghufran Ibnu Yasa, M.Sc, Rahmat Yusny, M.TESOL, Syamsul Rizal, M.Pd dan Irman Siswanto, S.Pd.I.

Tempat pelatihan: Ruang Seminar Anthony Reid, ICAIOS (Full AC dan Wifi)
Alamat: Komplek PLPISB Universitas Syiah Kuala, Samping Lapangan Tugu, Darussalam Banda Aceh 23111
Telp: 0651-7552368
WA: 085260135669/08126914953
Email: info@acehresearch.org
Website(s):
http://acehresearch.org
http://jurnal.ar-raniry.ac.id/index.php/islamfutura