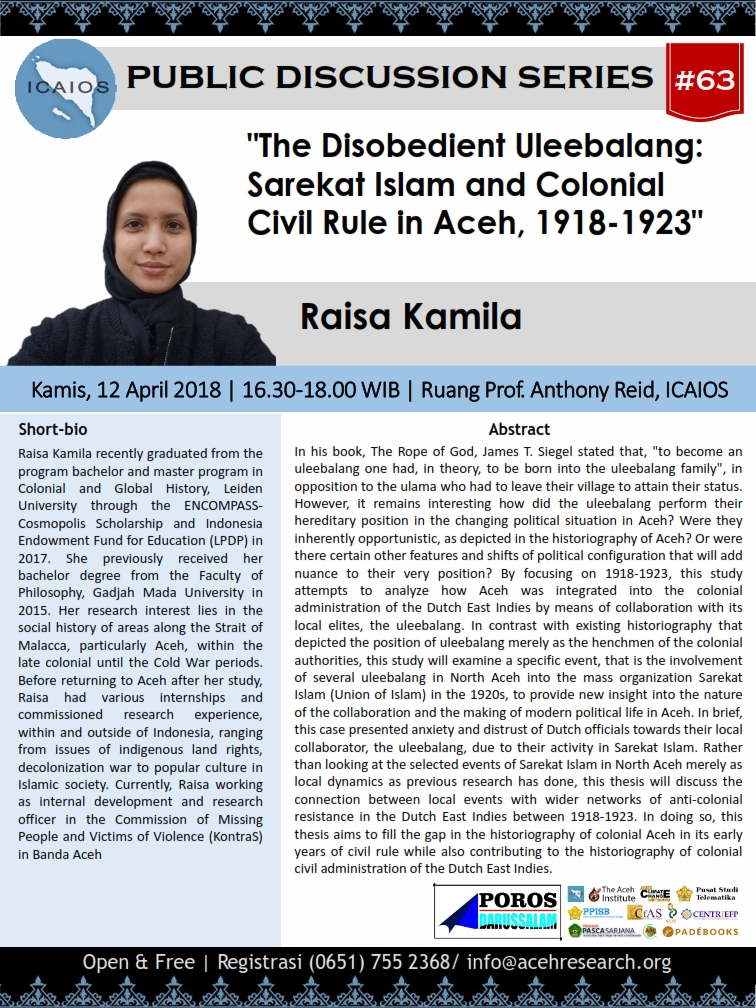 The Disobedient Uleebalang:
Sarekat Islam and Colonial Civil Rule
In Aceh, 1918-1923
| Thursday, 12 April 2018 | 16.30 - 18.00 WIB |
| Prof. Anthony Reid Seminar Room, ICAIOS |
About The Speaker:
Raisa Kamila recently graduated from the program bachelor and master program in Colonial and Global History, Leiden University through the ENCOMPASS-Cosmopolis Scholarship and Indonesia Endowment Fund for Education (LPDP) in 2017. She previously received her bachelor degree from the Faculty of Philosophy, Gadjah Mada University in 2015. Her research interest lies in the social history of areas along the Strait of Malacca, particularly Aceh, within the late colonial until the Cold War periods. Before returning to Aceh after her study, Raisa had various internships and commissioned research experience, within and outside of Indonesia, ranging from issues of indigenous land rights, decolonization war to popular culture in Islamic society. Currently, Raisa working as internal development and research officer in the Commission of Missing People and Victims of Violence (KontraS) in Banda Aceh.
Read more: The Disobedient Uleebalang: Sarekat Islam and Colonial Civil Rule In Aceh, 1918-1923


Public Discussion Series
Why We Refuse to Act on
Climate Change?
Annisa Hazrina Hasbi, S.Psi., M.Sc.
| Thursday, 05 April 2018 | 16.30 - 18.00 WIB |
| Prof. Anthony Reid Seminar Room, ICAIOS |
About The Speaker:
Graduated from Psychology, Universitas Sumatera Utara, in 2010, she worked in an oil and gas company where she found her most interest within the realm of sustainability within the community. She was one of ICAIOS volunteer before she pursued her postgraduate study in the University of Leeds, where she majors the Sustainability and Business programme. Her upmost interest is within the nexus of behavioural change towards more sustainable lifestyle and also policy making to support environmental awareness and community empowerment. Therefore, Annisa is actively engaged with many community development projects such as crowdfunding for deforestation in Riau and Kalimantan, educational fund for some schools in different places in Indonesia and also connecting the scholar and make the knowledge sharing easier through Diaspora Muda Aceh.
Read more: PDS #62 : Why We Refuse to Act on Climate Change?

Public Discussion Series
The Oligarchy Theory in
Indonesian Studies
| Thursday, 29 March 2018 | 16.30 - 18.00 WIB |
| Prof. Anthony Reid Seminar Room, ICAIOS |


About The Speaker:
Master of Public Policy and Management from the University of Melbourne where he met and studied intensively under Prof. Vedi R Hadiz on political economy approach.


About PDS:

In general, there are three major approaches in studying Indonesian politics. The first is the historical-anthropology approach. It is pioneered by Cornell scholars like George McTurnan Kahin, Benedict Anderson, and Herbert Feith. Second, liberal-pluralism approaches, it is pioneered by various scholars like William Liddle in Ohio University or Edward Aspinall in ANU.
Read more: PDS #61: The Oligarchy Theory in Indonesian Studies
[ICAIOS]-Untuk lebih mempererat lagi kerjasama yang sudah dijalin oleh ICAIOS dengan Fakultas Adab dan Humaniora (FAH) UIN Ar-Raniry, kedua belah pihak melakukan pertemuan pada Rabu (7/3/2018) bertempat di Ruang Sidang Dekan FAH. Hadir dalam pertemuan tersebut mewakili ICAIOS, Dr. T. Zulfikar (Direktur ICAIOS), Dr. Anton Widyanto (Program Manager ICAIOS), Maida Irawani (Program Assistant ICAIOS) dan Pratitou Arafat (Program Assistant ICAIOS). Sementara FAH diwakili langsung oleh Dekan FAH, Dr. Syarifuddin, WD III, Dr, Bustami Abubakar dan WD I, Nasruddin, M.Hum.

Seiring dengan telah berakhirnya program AGP ICAIOS pada bulan Maret 2018, maka ICAIOS berniat untuk menghibahkan keramik yang banyak mengandung nilai-nilai sejarah Aceh kepada FAH untuk selanjutnya dapat dimanfaatkan sebagai bahan praktikum mahasiswa FAH sekaligus sebagai asset museum UIN Ar-Raniry.

Direncanakan hasil kajian AGP-ICAIOS akan memberikan 7 display keramik yang akan diserahkan ke Fak. Adab UINAR dengan rincian 2 display tentang motif dan fungsi geraba/tembikar Aceh, 3 display panjang akan ditempatkan di Museum UIN tentang asal mula keramik, perdagangan China & Aceh dan periode temuan keramik dan 2 display tunggal tentang keramik tertua dan lampu Aceh serta 6 rak yang akan digunakan sebagai penyimpanan keramik untuk Laboratorium Keramik Fak. Adab.
Read more: ICAIOS dan Pimpinan FAH Bahas Kelanjutan Program Museum UIN Ar-Raniry